"Common Knowledge usually gives the nod in speed to the Alaskans over the more deliberate trot of the Siberians, but she is erasing standards. At the start line, her swifts were pounding their harnesses, then descended the slope from the start, disregarding resistance as the slight built Yeargain stood on the brakes. A rooster tail of snow followed the sled to the bottom." - By Joe Runyan, on Karen's team at the Atta Boy '05


ABOUT ME
Karen Yeargain

I am a 53 year old Public Health Nurse who discovered the sport of mushing in 1988.

In 1987, my first Siberian came into my life. Neka was pet-bred, very pretty and out of control! In taking her to obedience class, I met the woman who would introduce the two of us to the sport of mushing. Lin Neumann invited me and my 10 month old pup out for a run "in harness". While Neka wasn't too sure about that first run, I was hooked. Lin surprised me with a smile and the words, "First ride's free." I thought she was going to charge me to go out again.

My next two dogs, Libby and Taska, were from rescue situations. The three girls each gave me their honest efforts in harness and allowed me to explore and learn some mushing basics. This also gave me time to find knowledgeable Siberian mushers and become familiar with different running lines.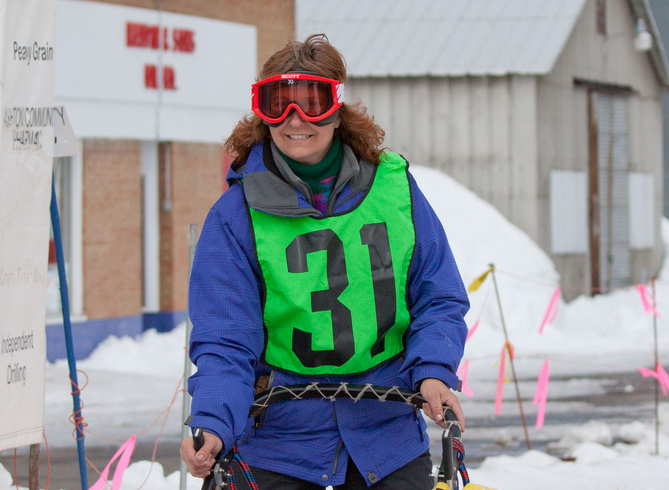 Karen at American Dog Derby 2011

By the time I was ready for my fourth dog, I was looking for a sled-bred dog. My mentors, Judy & Phil Roger of Spindrift Kennel (no longer active) referred me to a top kennel in British Columbia who was retiring from mushing and placing their best young dogs. After visiting Chris & Jackie Marshall, I brought home Meomar's Faux Pas, a two-year old leader, who would become the foundation for my kennel. Two years later, Judy & Phil sold me my foundation bitch, Spindrift's Shulaces. The two breedings between Foxxy & Shulaces produced sound, willing athletes with strong lead tendencies. To that base, I have factored in other key running lines, such as Northome, Lokiboden and Anadyr, to produce a style of athlete and companion that is well suited to the tasks I ask of them.

As my team has evolved, so have my ideas on training and expectations for my dogs. I want dogs who are good companions, well behaved socially (in and out of the kennel), eager to learn.....and dynamic in harness. And I have found that I CAN have all of this. I focus my training styles on getting each of these factors; contrary to popular "rumors", I have found that "cross-training" my dogs gets increased responsiveness in harness, not decreased.

So now, after 23 years in mushing… raising, training and racing the dogs who share this life with me, I understand what Lin meant when she said, "First ride's free".